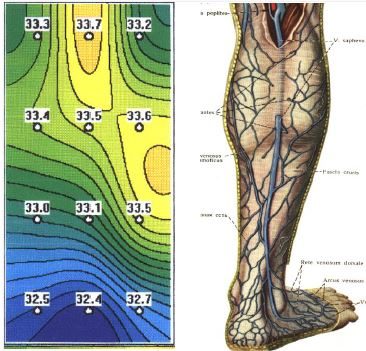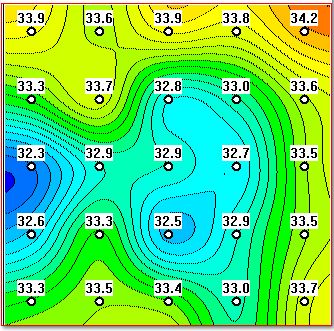 A computer-assisted diagnostic microwave radiometer RTM-01-RES is a highly sensitive system facilitating the evaluation of the functional status of tissues and bones on the basis of non-invasive measurements of internal temperature and skin temperature
It represents and diagnoses:
Spine (all sections)
Joints
Abdominal cavity
Chest
Skin (neoplasia, birthmarks, scars)
Appendix
Urinary bladder
Stomach
Head, neck
Small pelvis
Kidneys, adrenal glands
Pancreas (endocrine gland)
Lower limbs
Thyroid
Breasts MORE
The RTM Technology was also successfully used in:
Gynaecology (pathology of pelvic organs – uterus and ovaries)
Endocrinology and surgery (diagnostics of thyroid carcinoma);
Neurology (pathology of spine);
Urology (diagnostics of prostate and kidney carcinoma);
ORL (pathological changes in paranasal sinuses)
Dermatovenerology (skin melanoma)
Method
The RTM-01-RES method is based on the measurement of the intensity of natural electromagnetic radiation of internal tissues and bones in microwave frequencies to the depth of 2 to 7 cm, with a high level of accuracy.
The RTM-diagnostics offers a great advantage, compared to other diagnostic methods.
Since 1970s and 1980s, thermographic cameras or infrared thermography, measuring skin temperatures in infrared wavelengths, have been used in medicine.
Experience proved that in many applications it is required not only to obtain the information on the skin temperature but also the temperatures of internal tissues. This requires the measurement of intensity of tissue radiation in larger wavelengths.
We know the method of laboratory diagnostics using specific antigens. However, it is not advisable to rely only on the results of these tests, as it is not completely specific. What does it mean?
There are cases when an individual with normal PSA (Prostate-Specific Antigen) level was diagnosed the prostate cancer. And, by contrast – with a high level of cancer cells, PSA cannot be detected. These cases are not rare.
One of the key issues related the RTM diagnostics was the interference resistance, as the electromagnetic radiation of human tissues is very weak (10-14 Watts). Electronic devices around us often emit much stronger radiation. The main electromagnetic interference sources are personal computers, mobile phones, and other electronic devices. Apparently, the level of electromagnetic interference in the surrounding environment is increasing year-by-year. First prototypes of the RTM device required special shielding, which was not always possible. However, recent inventions in science facilitated the construction of a device which can operate without special shielding. It is a device we are currently using.
Advantages:
unlimited number of examinations
monitoring the therapy and procedure efficiency
absolute harmlessness
a highly sensitive diagnostic method – accuracy
detection of anomalies already in early stages
instant result and visualisation
Microwave radiometry examination results
left hemisphere                                     right hemisphere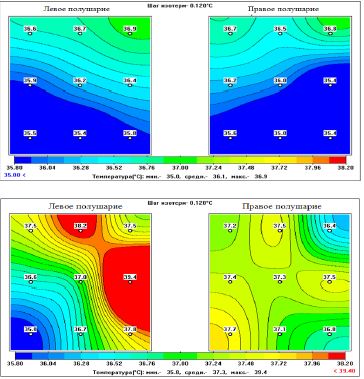 Cerebrovascular accident – CVA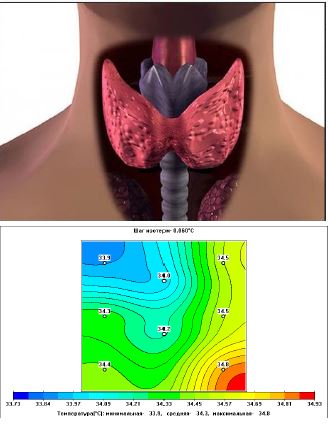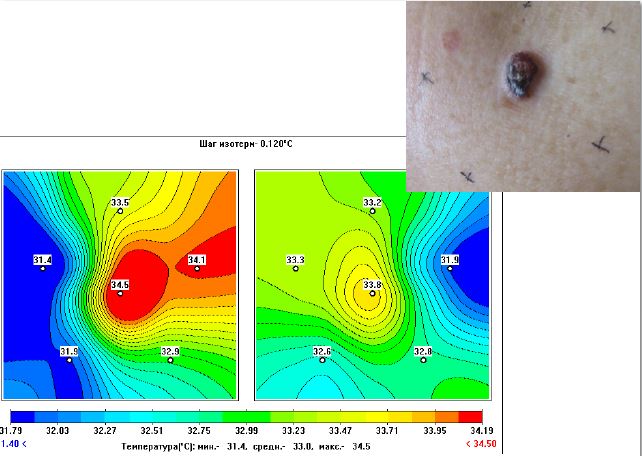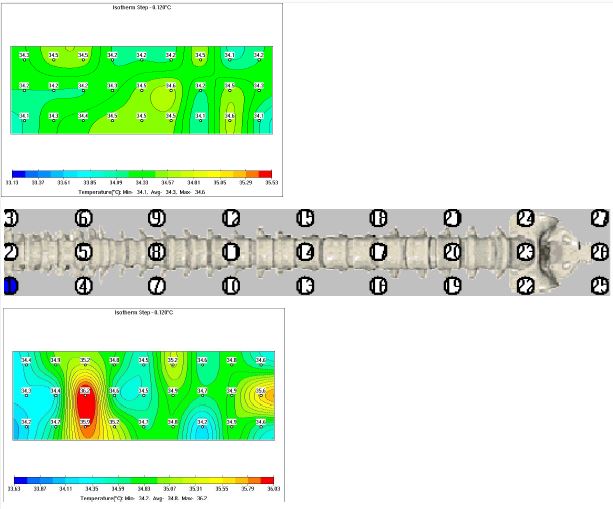 Spine – inflammatory process in the area of thoracic vertebrae
Liver                                                                                    Kidneys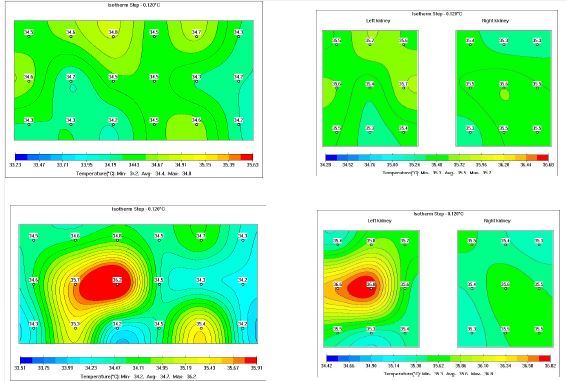 Liver – inflammatory process                                                    Left kidney – inflammatory process
Author: Mgr. Mrenková Lucia